HerFei Paper Technology Co., Ltd founded at the Daliao District, Kaohsiung of the Republic of China for more than 30 years. It specializes in the design and production of heavy-packaged products such as corrugated boxes, paper pallets, and paper corners. In the spirit of integrity, professionalism, service, and speed, and the growing strength of the day, the Kaohsiung Daliao moved to Pingtung Wandan in the absence of the space. The new factory covers an area of more than 3,000 pings. The environment and production planning are in order, and the work from raw materials to shipments is made quickly so that customers can use them with peace of mind. Herfei will continue to uphold the principles of integrity, quality, professional service and fast, and provide high-quality packaging products, satisfactory services, and customers to create a win-win situation.


Fast customs clearance, no pests, smoke-free
The paper pallet can quickly go through customs, free from pests and parasitic eggs and does not require documentation such as smoking and quarantine. It cuts costs and is environmentally



Super weight and pressure resistance, so that customers with peace of mind during shipping packaging.

The practicality of the paper pallet is comparable to the traditional wooden pallet, which is sufficient for weight and pressure resistance, can withstand the weight and pressure without deformation, cut costs and enhance the corporate environmental image.



passed the ISO9001 certification
quality more refined
Herfei passed the ISO9001 certification in 2015. The consistent standardization operation and the continuous introduction of high-tech mechanical equipment make the product quality more refined, beautiful and customized.



Enhance Corporate identity
Eco-friendly can love the earth
Protect the earth and improve the environment, use recyclable materials, protect and love the earth, therefore use paper pallets can make your corporate image better.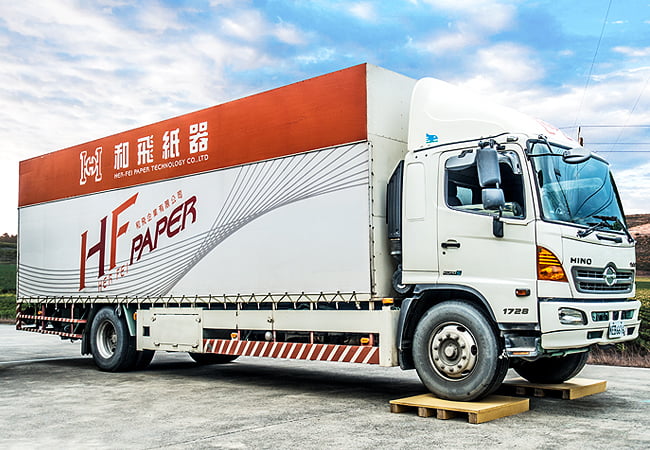 √ The highest durability in the industry
√ The thinnest in the industry
√ Challenge the cheapest in the industry
√ Customization
Hefei has 30 years of experience, serve a large amount of customer, exhibiting a variety of customer satisfaction products. We would like to continuously improve, advance, and provide you with the best quality and service.
Heavy-duty V.S Wooden boxes
Heavy-duty cartons are typically used in products with extremely high compressive strength and burst strength, such as chemicals, precision instruments, etc., so these cartons are usually made of ten or seven layers of corrugated paper. This product is more flexible, lower cost, better cushioning, more pressure resistance, more storage space compares to wooden boxes.

Integrity, quality, professional service, fast
Sincerely treat each customer
The pursuit of quality
Professional customized service

High efficiency, high flexibility to meet customer needs